Welcome to the cottage
of La Charrette bleue
This eco-friendly house can accomodate between 4 to 6 visitors. Located in the quiet Normandy countryside, the Charrette Bleue is ideally situated for spending time in nature and a relaxing holiday with family members, friends, this either for a long week-end, a full week, or even more if you wish to. Before, the place used to be a barn  and the blue cart (charrette) was used to carry the hay into the loft. Today, this old farm building has been tastefully converted into a sweet and cosy cottage by  skilled eco workers who have respected the spirit of the place and added a modern touch mixed with authentic and warm comfort
About the cottage
Rural location, yet closed to the small town of Aunay-sur-Odon (1.5 km). There, you will find  all types of local amenities including a public hospital. With a surface of 95 square meters, the cottage has been new fully equipped and includes a fitted kitchen, a living room, 2 bedrooms and a bathroom, plus a 300 square meters back garden
A sustainable accomodation. Isabelle, the owner is an ecologically committed person
About the eco renovation process
The eco renovation project started in 2010 and  ended five years later. During all these years, we followed the same simple guiding line which in other words consisted  in the reproduction of old building processes, the use of local natural materials with skilled workers. The accomodation and decoration of the cottage have been made with furniture and accessories which are issued as much as possible from a buying local channel either in Normandy or in France
Places of interest in the local area
A central location along with a rural setting, at one hour drive from  Mont-Saint-Michel and the D-Day beaches, at half an hour from the cities of Caen and Bayeux (Tapestry), at 20 mins drive from the Suisse Normande. You can enjoy the nearby beaches and the countryside, doing a sport or a cultural activity, or why not choose both!
An old  barn and a hayloft retrofitted  into an eco house
The choice of environmentally-sourced materials  and the use of renewable energies
You will feel good in a genuine, cosy and healthy atmosphere
Ideal for eco-friendly holidays
Discovering  the farmers  and craftsmen on the Route des Traditions
You wish to go and meet the organic farmers and craftsmen based on the  Route des Traditions. Then, you will enjoy tasting their organic food products or local delicatessen and gastronomic delights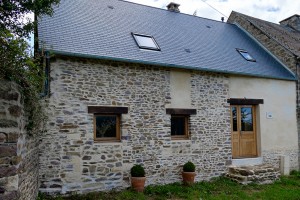 Walking, riding a horse or a bicycle
With the  central location of the cottage, you are very close to walking paths, horseriding or bicycle roads, you will be able to practice all kinds of sports activities
Digital and broadcast unplugging! Only the birds will wake you up!
Looking forward to having a digit detox break and logging off the internet for a couple of days? Then here you will rest and relax in contact with nature, and live a true unplugging experience